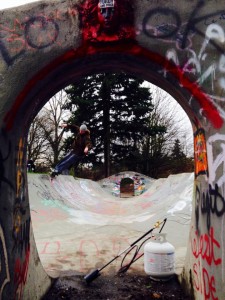 This year marks our third January since we started this thing. A lot has happened and we have had good fun! The first post we did that had anything to do with anything was this one in January of 2011.
Since then we have been on a bunch of skate trips, made stickers (new ones soon!), shirts, hoodies, and generally made a nuisance of ourselves in several states and at least one other country. We also got featured as the site of the week on Skate Daily. Thanks to Bryce Kanights for that, very much.
This year we had a larger than 2 people crew and Marginal Way, Judkins, and Southpark had a role. Southpark being a revisit to the place we took the first photo from the post three years ago. Many personal firsts were had and a big thanks to Hector for taking the photo and bringing the torch this year.
We are three years older and have some bumps and bruises and repairs to prove it with no intentions of stopping. People who "used to skate" probably never really did in the first place.
So here's to a great 2014 with more skating and more fun! We have some beginnings of trips planned and hopefully we will see you out there skating.
Ride on!
UPDATE: More photos….