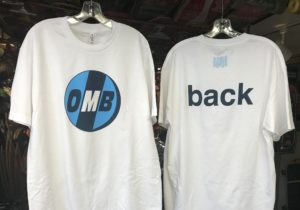 We are happy to bring you some really cool white shirts for the summer. We have a quite limited number available in the store for you. So get them while you can.  If you are anywhere near Renton, Washington you can get one at Gravity Sports.
We have been out and about skating mostly and the website has been neglected by a certain university student. Look to see more content and stupidity from us especially in the 2018 when the shackles of responsibility will be thrown off with abandon.
We did get out for a bit of fun on Go Skateboarding Day which, for us, is a great excuse to take the day off work and skate something we have never skated before. This year we went to the Port Orchard, Washington skatepark to try out the brand new features. It was a good time and if you haven't seen the new stuff you should get out there!
Here's a tiny video clip of Mike sporting our new shirt board sliding a new park feature.
Thanks for checking us out and have a great summer!!