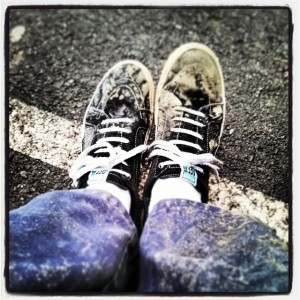 Skateboarding can be rewarding in so many ways. Since day one I started building things to skate. The wood across the grass to get a longer run, the janky quarter pipe that fit on the sidewalk, the bigger quarter pipe that could be disassembled and reassembled in the flat driveway next door and put away because the parents wanted it out of sight, the jump ramp that fit perfectly in the mini pickup and on and on. These days the DIY spirit of skateboarding is alive and well and there are projects all over the world. We have a great one in Seattle called Marginal Way which I have had the great fortune to put money into as well as work. Sunday was a work day and though I came unprepared I did my bit… The park is coming along great. Keep up with it on Facebook or the website.
Oh… and by the way. If you skate a DIY spot and show up when it's being worked on and don't put in some work or at the very least drop off a six pack then don't bother skating it. Be part of the community of skateboarding or quit and ride BMX or start jogging.
If you don't have a DIY spot or a place to skate then what are you waiting for? Build and destroy! There are plenty of how to's on the internet. Go do it!
Go skate!!
By the way… new hoodies up in a few as I'm building that part now but had to ramble a little bit…